Self serve for Bell services
Most popular in MyBell
Bell Self serve app
Manage your Bell Mobility service on your smartphone or tablet with the Bell Self serve app.
The app is free and, when you use it in Canada, you won't get charged for data usage.

Learn more or download the app now.

On BlackBerry devices, please visit mselfserve.ca using the mobile browser (already bookmarked on new devices).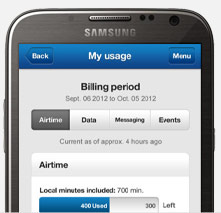 More things you can do
Pre-authorized payments
Pay your bills automatically with pre-authorized credit card payments.

Sign up
Fab list
Update your Fab list online to keep in touch with your favourite people.

Update Fab list