How to activate my new Bell Satellite TV SmartCard
How to activate my SmartCard
You recently received a new SmartCard in the mail. Please install and activate your new card as soon as possible to restore your programming. Follow the steps further below.

If you have already followed the instructions in the letter accompanying your card and have replaced it in your receiver, you can activate your SmartCard online now.
Note: You will be directed to the My equipment section of MyBell. If you have not yet registered for MyBell, you will have the option do so before you activate your SmartCard.

You may be required to return your old card within 30 days. In such cases, the letter will provide instructions on what to do.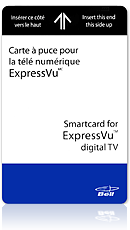 Steps to replace your SmartCard:
Turn on your TV and Bell Satellite TV receiver. Do not remove your existing SmartCard until you reach the appropriate step in these instructions.
Access the System Info screen on your Satellite TV receiver. You may access System Info by doing any of the following:

Press the System Info button on the front panel of your receiver, if available.
Press the Menu button twice on your Bell remote control.
Press Power on your receiver and then press the up arrow button.

Take note of the receiver number. You will need it to identify which receiver is paired with your new SmartCard.
Manage your equipment in MyBell.
Select Replace SmartCard.
Enter the new SmartCard's number (it is printed below the barcode) in the SmartCard number field.
Locate the SmartCard slot on your receiver. Depending on your model, it is either exposed or behind a protective panel.

Remove the old SmartCard, if any.
Insert the new SmartCard with the barcode facing down and to the right.

If you have received other SmartCards, repeat steps above for each active receiver.
Once you have completed the activation process, it takes an average of
15 minutes
before you can view or record programming. In some cases, it may take
up to 2 hours.
Troubleshooting SmartCard activation issues
The following issues may occur after you've replaced your SmartCard.
Error codes
Error code

Definition

Troubleshooting

Attention 129

Attention 128

Your receiver has not yet been authorized

Your receiver is being authorized

These messages appear after your new SmartCard is inserted.
Attention 129 will change to Attention 128 within 15 minutes once your new SmartCard is activated.

If these messages stay on your screen for more than two hours, perform troubleshooting.

Error 020
Error 124

Invalid SmartCard inserted

Ensure that the new SmartCard is inserted properly.

Ensure that the new SmartCard number has been activated by checking in MyBell.

Error 021

Error 019

Insert SmartCard

SmartCard not inserted properly

Ensure that the new SmartCard is inserted fully and that the barcode is facing down to the right.

Error 005

SmartCard does not have authorization

This message appears when a new or replacement SmartCard is in the process of being authorized once it's been activated. Activate your SmartCard if you haven't already done so.
Synchronize your programming to authorize the card.
Missing channels
It may take up to two hours for all your channels to become available. If you are unable to view all your subscription channels after that time,
perform troubleshooting
.
FAQ
1. Why do I need to replace my SmartCards?
It's important to replace the SmartCards immediately in order to avoid an interruption to your programming.
2. What's a SmartCard?
A SmartCard looks similar to a credit card and is inserted into the slot located on the front panel of your digital receiver. Some digital receivers have an empty SmartCard slot, but will still require a new SmartCard to decode programming information from our satellites.
3. Where is the SmartCard located?
On most receivers, the SmartCard is located at the front, on the left. The card fits into a small slot and, depending on your model, is either exposed or behind a protective panel. Some receiver models don't currently have a SmartCard in the slot. If this case applies to you, you just have to insert the new card in the slot.
4. How do I perform the SmartCard replacement and activation?
Follow the step-by-step instructions to install and activate your new SmartCards, enclosed with the letter you received in the mail and/or the instructions found on the
activation home page
. If you have more than one receiver, the same instructions apply to each.
5. I misplaced the new card you sent. What should I do now?
Please call
1 888 759-3474
to speak to a representative.
6. How long will it take to replace and activate my new SmartCards? When is the best time to perform the swap to ensure I don't miss my favourite programming?
It will take approximately 15-30 minutes for you to replace your new SmartCards, and then from 15 minutes to 2 hours for your programming to return to normal following reactivation. Therefore, we recommend that you replace and activate the card at least 3 hours before your favourite show hits the airwaves.
7. What do I do with the old card?
Please follow the instructions in the letter you received with the new SmartCards, as you may be required to return the old one. In such cases, a return envelope will be included with the letter.
8. I replaced and activated my new SmartCard, but I can't seem to access my programming. What should I do?
Keep in mind that it will take between 15 minutes and 2 hours for your programming to return to normal after you've activated your new SmartCards. If you're experiencing a delay of greater than 2 hours, please go to the
activation site
, select the receiver with which you're having problems and follow the troubleshooting steps. If you still have issues after completing those steps, call
1 888 759-3474
.
9. I have installed my new SmartCards. How do I activate them?
Activate them in
MyBell
.
Thank you. We have received your response.
In our ongoing efforts to improve our support section, your opinion is invaluable.
Please let us know what we did well or what we can improve about this article
If you require assistance, please Contact us