How to reconnect your indoor and outdoor cameras
Wi-Fi reconnection instructions for cameras directly connected to a modem. Please call support if your camera is connected through a gateway.
Before you begin:
Confirm your modem has a Wi-Fi Protected Setup (WPS) button. The button may be identified by the symbol or it may be simply labelled 'WPS.'
If you can't find a WPS button, please contact your Internet provider or modem manufacturer to see if your modem has WPS.
If your modem does not have WPS, please contact Bell Smart Home for assistance.
Follow these steps to reconnect your cameras.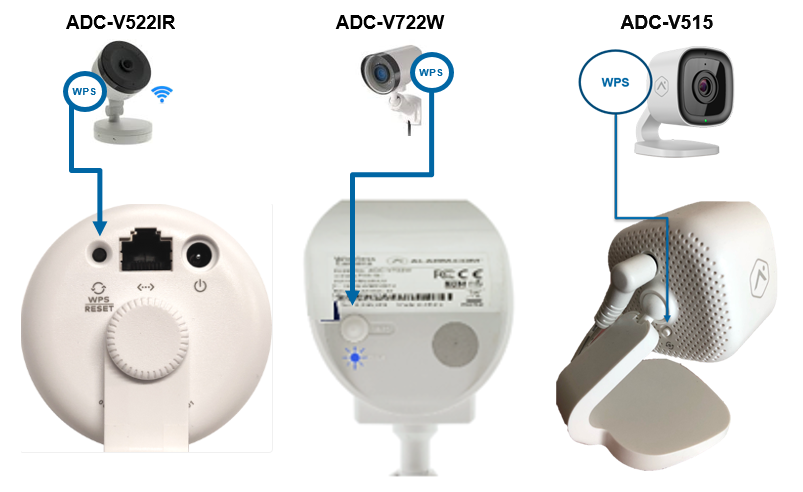 Steps
If possible, try not to change the camera's orientation while pushing the WPS button. If it points to a different field of view, your video motion detection windows will need to be redrawn.
With the camera powered on, press the WPS button for two to three seconds and release it when the light flashes blue.
Press the WPS button on your modem/router for four to five seconds.
Allow a few minutes for the PoE adapter/camera to connect with your modem: the light on the camera will cycle through the following indicators.

Solid red
Blinking green
Solid green (which indicates that your camera is now connected to your Wi-Fi network)

Check the live camera view from the app or the website to confirm that the camera is connected properly.
If the connection process times out (i.e. after two or three minutes) and reverts to a solid red WLAN indicator, the WPS was not successful. Please start over.
To connect your devices to the Wi-Fi network using WPS, please follow these steps:
Turn on your wireless device.
Press the WPS button on your modem for 5 seconds until the WPS light starts blinking (on the Home Hub 3000, you can check its display).
Within 2 minutes, press and hold the WPS button on your device for 5 seconds.

NOTE: If you do not complete the process in time, you'll need to restart from step 2.
The password for your primary Wi-Fi network will automatically load into the device and connect to the network.