If a technician has determined that the Wireless Home Internet antenna must be placed on a post, please follow the steps below to install a 6-inch x 6-inch (140 mm x 140 mm) wooden post in the location the technician specified. The technician will then mount the antenna on the post.
Before installing the post:
If you are not the property owner, please get permission from the owner or building manager to install both the post and Wireless Home Internet service. You may be required to show proof of permission.
Check for underground cables, gas lines, etc. See Before you dig, below.
Installing the post:
Install a 6-inch x 6-inch (140 mm x 140 mm) wooden post in the location on the property that the technician specified. Follow the option below that best suits your requirements:


| | Option A | Option B |
| --- | --- | --- |
| Wooden post length | 12 feet (3.7 m) | 16 feet (4.9 m) |
| Above ground height | 8 feet (2.4 m) | 10.5 feet (3.2 m) |
| Below ground depth | 4 feet (1.3 m) | 5.5 feet (1.7 m) |



The post should be secured with cement. The cement must not extend higher than the grade of the levelled ground where the post is being placed.
Make a path for the cable from the post to the building, either by leaving an open trench or by installing a conduit.
After installing the post, please call 310-BELL (2355) to schedule a technician to install your Wireless Home Internet service.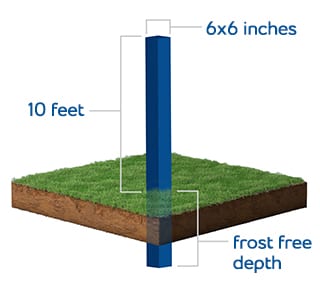 Before you dig
You are responsible for checking for buried cables, pipes and wires (such as for electricity, gas, water and other utilities) so you can dig safely. The information below can help.
| Region | Web site |
| --- | --- |
| Ontario | |
| Québec | |