How to activate my SmartCard
You recently received a new SmartCard in the mail. Please install and activate your new card as soon as possible to restore your programming. Follow the steps further below.

If you have already followed the instructions in the letter accompanying your card and have replaced it in your receiver, you can activate your SmartCard online now.
Note: You will be directed to the My equipment section of MyBell. If you have not yet registered for MyBell, you will have the option do so before you activate your SmartCard.

You may be required to return your old card within 30 days. In such cases, the letter will provide instructions on what to do.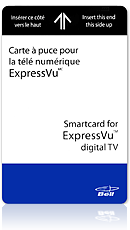 Steps to replace your SmartCard:
Turn on your TV and Bell Satellite TV receiver. Do not remove your existing SmartCard until you reach the appropriate step in these instructions.
Access the System Info screen on your Satellite TV receiver. You may access System Info by doing any of the following:

Press the System Info button on the front panel of your receiver, if available.
Press the Menu button twice on your Bell remote control.
Press Power on your receiver and then press the up arrow button.

Take note of the receiver number. You will need it to identify which receiver is paired with your new SmartCard.
Manage your equipment in MyBell.
Select Replace SmartCard.
Enter the new SmartCard's number (it is printed below the barcode) in the SmartCard number field.
Locate the SmartCard slot on your receiver. Depending on your model, it is either exposed or behind a protective panel.

Remove the old SmartCard, if any.
Insert the new SmartCard with the barcode facing down and to the right.

If you have received other SmartCards, repeat steps above for each active receiver.
Once you have completed the activation process, it takes an average of
15 minutes
before you can view or record programming. In some cases, it may take
up to 2 hours.