What is iPhone Visual Voicemail?
Visual Voicemail is a quick and easy way to listen to your messages without having to dial in. Simply scan through all of your messages, get a visual summary of who called and when, and choose which message to listen to, right on your screen.
It includes a subscription to Message Centre, an enhanced voicemail service that takes up to 25 five-minute voice messages.
Learn how to set up and use Message Centre voicemail.
Note: A data plan is required for iPhone Visual Voicemail to work. It is not available through Wi-Fi.
For Home phone, see Call Answer.


New Voicemail Notification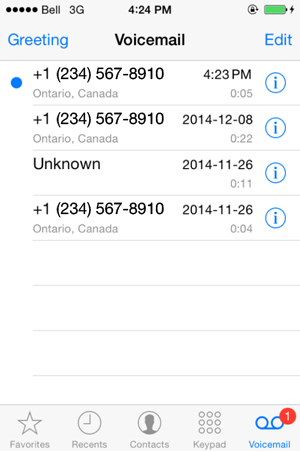 Retrieving the Message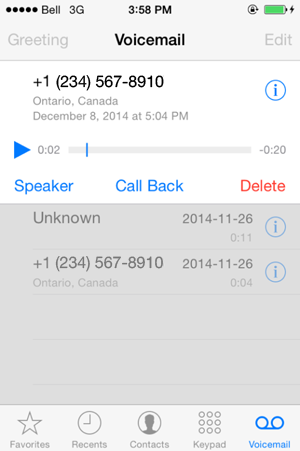 Record Personal Greeting
Subscribing to and setting up iPhone Visual Voicemail
You can add iPhone Visual Voicemail to your Bell Mobility rate plan through MyBell or by contacting us.
Once you've subscribed, tap Voicemail in the Phone application.
Tap Set up Now and follow the instructions.
Accessing Visual Voicemail messages
Tap Voicemail in the Phone application.
Tap a message and then tap ► to listen.
You can drag the playhead to skip to any point in a message.
You can easily respond with just one touch via text message, multimedia message or call back.
Selecting default/personal greeting
Tap Voicemail, and then tap Greeting.
Tap Default to use the generic greeting.
Tap Custom, then tap Record, and then record your greeting.
Deleting messages
Swipe or tap the message, and then tap Delete.
iPhone Visual Voicemail is synchronized with your voicemail box – if you delete a message through Visual Voicemail, it will also be deleted from your mailbox and vise versa.
Note: You cannot save messages on iPhone or to a media card.
Switching from iPhone Visual Voicemail to Basic Voicemail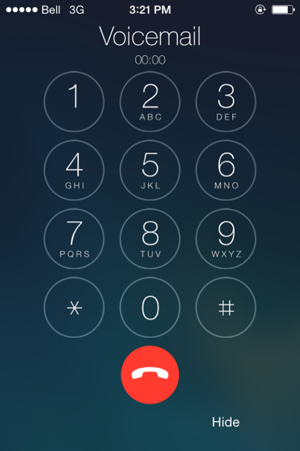 Unsubscribe from Visual Voicemail through MyBell or by contacting us.
Tap Voicemail in the Phone application.
Listen to prompts and follow the instructions.
Service unavailable
iPhone Visual Voicemail requires cellular data to work. You can still access downloaded voicemail messages when offline.
You cannot retrieve new voice messages through Wi-Fi.
Only Voice Signal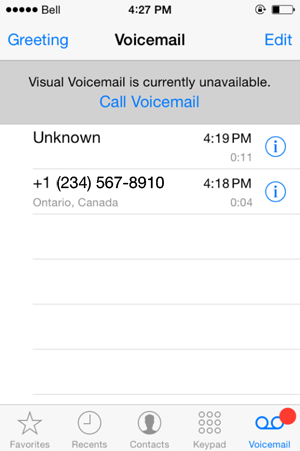 Out of Coverage