Manage your Bell Mobility
service on the go.
With the Bell Self serve app, it's easy to manage your service any time, anywhere – right on your mobile device.
The app is free. Plus, when you use the app in Canada, you won't get charged for data usage.
Get the app

The app might already be installed on other devices. Look for the Self serve app icon on the home screen.
If you download the app on your computer, you'll need to sync it to your mobile device.

The Self Serve app is already installed on BlackBerry 7 devices.
On BlackBerry 10 devices, please visit mselfserve.ca using the mobile browser (already bookmarked on new devices).
Learn what you can do
Make payments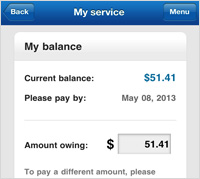 See your account balance and pay using a credit card, or top up your Prepaid plan.
Check usage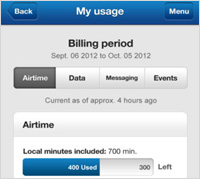 Monitor and manage your current voice, data and text messaging usage.
Update Fab list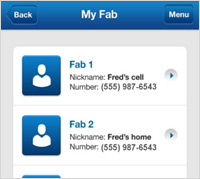 Change your Fab 5 or Fab 10 list at no charge, once per billing period.
Manage device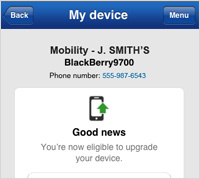 Get customized support articles for your device. Plus, view your eligibility for a hardware upgrade.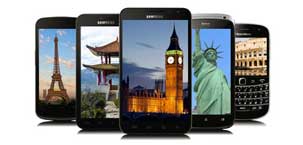 Travelling abroad? Outside of Canada, you can manage your service by connecting to Wi-Fi and then visiting mselfserve.ca on your mobile browser. If you use the app outside of Canada, you'll incur data roaming charges.