A closer look at your One Bill
This guide will give you a closer look at a typical bill.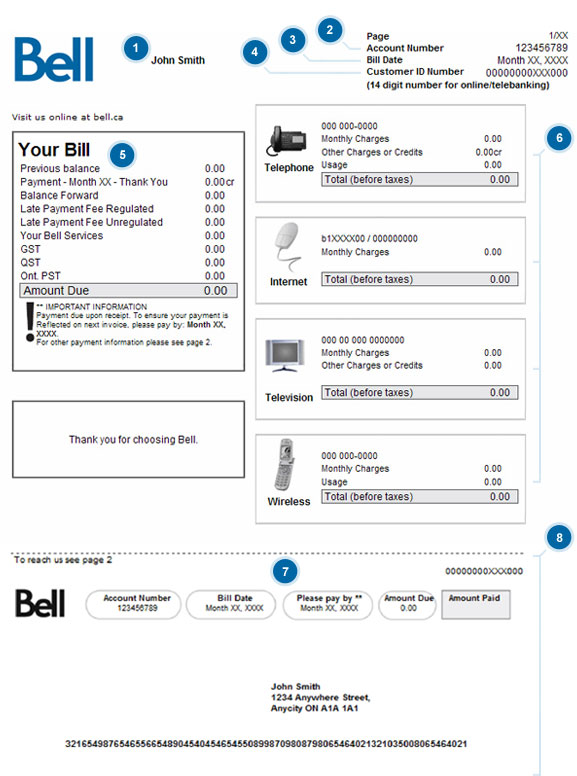 This is the billing address for your services.
The account number is unique to each subscriber and helps us access your account quickly when you call us. Use this number when you make payments by cheque or at the bank.
The bill date on your One Bill may be different from the billing dates for any separate bills you had or have.
Use your 14-digit customer ID number to pay your One Bill when you use Internet or phone banking.
Under Your Bill, you'll see a summary of your total charges and payments, including one-time adjustments, credits and the previous balance for all your Bell services. It shows the due date and the total amount you'll need to pay by the due date to avoid late-payment charges. NOTE: If you have recently made a payment on one of your services and it is not reflected here, it will appear on your next bill.
These boxes show you the summaries of charges for all of the Bell services you have combined on your Bell One Bill. You'll see account information and usage summaries clearly marked.
The payment due date  is the date by which you must pay your charges in full, in order to avoid late payment charges. Please be sure to make your payment early enough for us to receive it on or before the due date.
If you are mailing in your payment, you will need to include this detachable payment stub in the envelope. Be sure to bring the stub if you pay your One Bill in person at your bank or a Bell store (for payment deposits, only with envelope provided.) The stub shows your account number, your bill date, the bill's due date and the amount due. You should write the amount you are paying in the Amount Paid box.
NOTE: you can find contact information on page 2 of your One Bill.